Channel 17 broadcast many 'soaps' (television series) and are looking at ways of increasing audience engagement with the their TV series. They have decided to create 'Soap Booths' to be placed in stations and streets near newsstands. They believe 'soap watchers' may pass these locations when they purchase TV and celebrity magazines. The booths will enable TV addicts to make contact with other TV addicts elsewhere and discuss their favourite television stars.
Inside the Soap Booth is a standard LCD computer screen. There is no mouse and keyboard, but instead a trackball controls an on-screen mouse cursor. There is also a webcam and microphone to allow live chat. Figure HHH shows an initial screen design Kevin has produced.
The interface supports several functions.
You can select a soap and or star using the pull down menus and press find. This will enter you into a multi-way video and voice chat with other people with similar selections. The video/information area (currently showing a listing) will show miniature webcam-views of each other person in the chat.
You can select a star and then press "INFO NOW" to get celebrity gossip and photos in the video/information area.
you can enter your personal details in the dating area and press "find a mate" and then you will be entered in a one-to-one chat with someone matching your profile.
You can press 'soap stats' to get a listing of current soap actors' star ratings (listing shown) or can press 'soap stats' to get the different soaps' listings.
The small indicator marked 'online' is off if for some reason the webcam is not working , glows green if it is working but not active and glows red if it is active (currently filming you).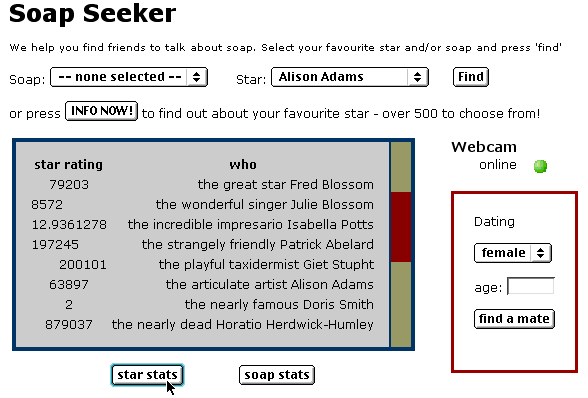 Figure - Soap Seeker screen design