Human-Computer Interaction 3e ­ Dix, Finlay, Abowd, Beale
exercises - 16. dialogue notations and design
This exercise is based on the mobile phone scenario on the web at: www.hcibook.com/e3/scenario/phone/
Figure 16.23 shows a STN for the simple mobile phone described in scenarios A and B on the web.
(a) Identify any missing transitions and suggest possible behaviour that would be sensible for the user.

(b) Scenarios C and D demonstrate the additional behaviour of the new phone. Update the STN in Figure 16.23 to add the new store and recall facilities of the new phone. Where there is not sufficient information in the scenarios choose suitable behaviour. You can use ellipses (…) where you would expect major additional functionality (e.g. storing numbers); don't attempt to fully specify such additional functions. List and briefly describe and justify any such design decisions that are required or any other design issues that become apparent.

Figure 16.23. STN for original phone
answer available for tutors only
(a)
As well as formal analysis, this question asks the students to map back from formal STN to the meaning of actions in given situations for the user. Note that we are not looking for particular suggestions for 'corrections' to the STN. More how they think about it.
Missing 'YES' and 'NO' transition missing from 'wait for call' state - probably ignore
No digit transitions in states 'calling' and 'talking' - any experience with online phone systems suggests that it is necessary to transit digits to far end when in 'talking' state, for 'calling' state could ignore, (or buffer and then send to far end allowing 'typeahead' for phone-based systems. In terms of the STN all would be no state change - the difference is in the semantics.
(b) The scenario has lots of gaps. The STN shown here is built from the info in the scenario, 'world' assumptions (e.g. left and right arrows are inverses of one another) and 'sensible' adding of where extra menu/submenu items would be found. Again answers will differ. Critical things for marking:
Is it consistent with scenarios?
Are additions justified and sensible from a user perspective?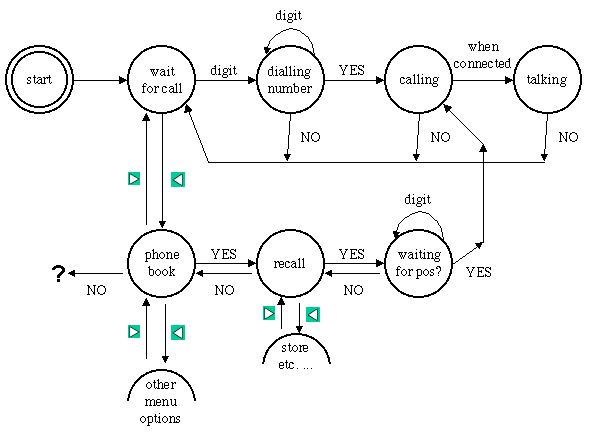 ---
Other exercises in this chapter
ex.16.1 (ans), ex.16.2 (ans), ex.16.3 (ans), ex.16.4 (ans), ex.16.5 (tut), ex.16.6 (tut), ex.16.7 (tut), ex.16.8 (tut), ex.16.9 (tut), ex.16.10 (tut), ex.16.11 (open)
all exercises for this chapter
---